Helping local families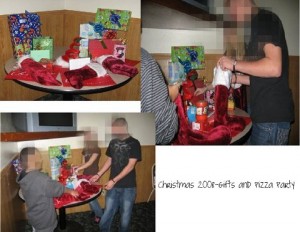 Over the years, Action Transportation, Inc. has contacted local programs/schools to find out which children were in the greatest need.  The company and it's employees have held Christmas parties for them & provided wrapped gifts of items they desperately needed.
Click here to view more thank you letters.
Click here to view a letter from the Family Nurturing Center.
Thank you to our Soldiers
Action Transportation also participates in an employee/soldier adoption program whereby soldiers are sent care packages in Iraq to help brighten their day.
Here is a "Thank You" note that was sent to Action Transportation, Inc. from the Adopt A U.S. Soldier Team.
From the Adopt a U.S. Soldier program.

"Thank you for supporting our troops! We had a bunch soldiers sign up today alone!! Drum roll please… I challenge you to spread our message to at least 3 people you know and get them to sign up to support our United States deployed troops!!! Can you do it??? I KNOW you can!!!! Your support really does lift spirits and morale. What the soldiers really want is to know people care. Below are some examples of that. "I think it's a wonderful thing what you and your family do for us and you have no idea how greatfull we all are." "Thank you again for all the help me and my guys are so appreciative of all you GREAT AMERICANS who care about us over here." "This is kind of embarrassing for me. I don't like asking other people to be my pen pals and send me stuff and I feel like I'm asking for so much but a lot of us don't really have anyone to count on back home and you guys make the world of difference to us. All those little reminders of home would be impossible without your support. Thank you so much." "It's awesome to return from a mission and have e-mails. no matter how tired I might be" Thank you all for being such great supporters!!! "i never knew about this site, and hope someone would care to send me something or anything, i have been in iraq since june and i havent heard or recieved anything from friends and family at home, so sometimes i feel alone and im with my unit as my family" If you would like an additional soldier for yourself or family or just have a nagging question please shoot an email to webmaster@adoptaussoldier.org Thank you all for supporting our United States deployed troops! Happy Supporting! Best Regards, The Adopt A US Soldier Team".